Tournament
From RetroMMO Wiki
A tournament is a chivalrous competition between players (PVP) in RetroMMO. Tournaments vary in size and duration, and are usually aimed towards more experienced players. The first Retro Tournament was held on April 11th 2021. Most tournaments can be participated alone or with a party.
There are two types of tournaments, open and invitational. Usually the only limiting factor to take part in an open tournament is an entry fee paid in gold. On the other hand, invitational tournaments are organized out of the public eye by the core developer Evan. More data about the tournaments can be accessed at Challonge.com
Retro Invitational - The First Ever PVP Tournament!
April 11th 2021
Winner: 8am Team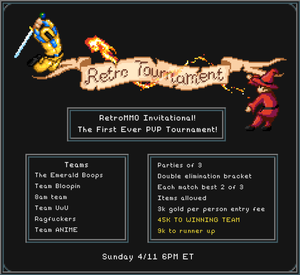 As the name suggest, Retro Invitational - The First Ever PVP Tournament! is the first ever held tournament. Only parties of three were able to participate for the fee of 3,000g per person with all items allowed. To win a match, two out of three rounds must be won. The structure of the tournament is typical double elimination bracket. Winning team receives 45,000g and the runner up 9,000g. Participating teams were The Emerald Boops, Team Bloopin, 8am Team, Team UwU, Ragfuckers, and Team ANIME.